Name- Republic of Poland.
Local name-Rzeczpospolita Polska.
Time line: A better world (TL).
OTL location: Poland less Farther Pomerania, Podlaskie Voivodeship and Lower Silesia, but plus Lviv Oblast.

| | |
| --- | --- |
| | 80px |
| Flag. | CoA. |
| Capital | Warsaw. |
| Largest City | Warsaw. |
| Other major settlements | Kraków, Łódź, Poznań and Gdańsk. |
| Languages | 96.85% Polish (1.5% Silezien), 0.18% German, 0.11% Ukrainian, 0.02% Belarusian, 0.04% Kashubian, 0.03% Romani, 0.02% Lemko and 2.75% other. |
| Leader | -. |
| Deputy Leader | .. |
| Head of parliament | .. |
| Type of regime  | .. |
| Name of national legislature | .. |
| Area | .. |
| Population | 32,653,750. |
| Number of international airports | 5. |
| Number of major ports | 3. |
| State de facto formed | 1915. |
| De facto Independence date | 1915. |
| Independence de jure reconised on | 1921. |
| Currency | Polish Złoty (PLN or zł). |
| Religions | . |
| Motto | . |
| Imports: | . |
| Exports: | . |
| Demonym | . |
| Anthem  | . |
| Ethnic groups | 94.52% Polish (1.5% Silezien), 0.28% German, 0.21% Ukrainian, 0.12% Belarusian, 0.04% Kashubian, 0.03% Romani, 0.02% Lemko and 4.78% other. |
| Internet TLD: | . |
| Highest mountain: | . |
| Calling code: | . |
| Number of military personnel: | 250,000. |
| % Literacy: | 98%. |
| Drives on the: | Right. |
| National sport: | . |
| National debt: | . |
| GDP per capita (PPP): | . |
| % Interest rates: | . |
| % Inflation rates: | . |
| Life expectancy in years: | 72. |
| | |
| --- | --- |
| 40px | This page is under construction and is still being written! Any major unauthorized edits can be reverted by the creator. |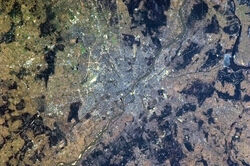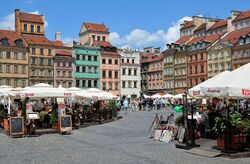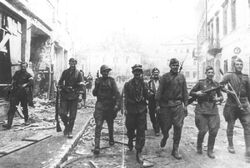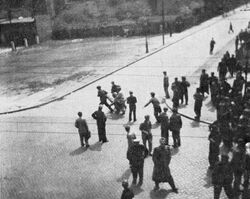 History
Pre-1914
Life was less hard after the 1880 as the Kizer chose to help improve life in Posnan as an attempt to both curb local poverty and emergent nationalism. The German Kiezer had promised the Polish Territories, increased autonomy during 1912 in an attempt to undermine separatist and Marxist elements in the region. Initial plans were drafted in 1913, but were never acted upon due to more urgent issues happening in Germany.  
The Anti-Serbia War (1914-1918)
Russia joined the war on Austro-Hungary's side. There would also be a separate, but related war between Germany and Russia over the ownership of Poland and the Baltic States. Germany would get limited controle of all of them by early 1917, but face stiff local nationalist resistance in places. Many Poles from both Poland and Russia fled to Lithuania to escape the Germans, Russians and later the Bolsheviks.
The inter-war years
Russian Revolution (1917-1924)
The USSR and Poland tried to subvert each other in the 1920s. The economy fell into ruins between 1918 and 1938.
The Great Depression (1929-1940)
The economy fell into ruins between 1918 and 1938.
The Anti-Hitlerian War (1939-1946)
The German lead holocaust was horrific and killed 5,000,000 Polish citizens (including 2,250,000 Jews) in the nation.
Cold War
Texan agents would seek revenge on the USSR by bombing a pub in Warsaw frequented by a Soviet base in Poland on May 1st, 1977.
1990s
Life today
.
.
Economy
.
The 2012 EU Stock Slump (A better world TL) and the 2008 European 2008 European Toxic Debt Crisis (A better world TL) badly damaged economy until 2017.
.
Organisations