JR Motorsports is an American professional stock car racing team that currently competes in the Xfinity Series. The team is based in Mooresville, North Carolina, co-owned by Monster Energy NASCAR Cup Series driver Dale Earnhardt Jr., his sister Kelley Earnhardt Miller, and a heavily supportive friend, Rick Hendrick. The team currently fields four full-time entries in the Xfinity Series: the No. 1 Chevrolet Camaro full-time for Elliott Sadler, No. 5 Camaro full-time for Michael Annett, the No. 7 Camaro full-time for Justin Allgaier, the No. 9 Camaro full-time for William Byron, and the No. 88 Camaro part-time for Dale Earnhardt Jr. and Kasey Kahne.
Founding
JR Motorsports began in a shed on the property of Dale Earnhardt, Inc. in 1998 with just one employee, as the marketing division of Dale Earnhardt Jr.'s race team. The original intent of the business was to help Earnhardt Jr. sell T-shirts and negotiate sponsorship deals. It wasn't until 2002 that Earnhardt Jr. turned the business into a race team, when T. J. Majors drove street stock division at Concord Motorsport Park, in North Carolina. Upon Earnhardt Jr.'s signing of co-ownership with Hendrick Motorsports the Hendrick and JR Nationwide Series teams were merged.
The first win for the team came at Motor Mile Speedway in Radford, VA, in 2004. (At the time, Dale Earnhardt Jr. was co-owner of another racing venture, Chance 2 Motorsports.)
Today, the team operates out of a 66,000-square-foot (6,100 m2) race shop near Mooresville, North Carolina.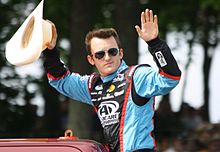 Championships
Jr Motorsports won a single championship in 2013 with their driver Austin Dillon, who currently competes in the Monster Energy NASCAR Cup Series, driving for RCR.
Relationship to DEI
Unlike Jr.'s ARCA team, Jr Motorsports competes completely independently of DEI, with much more ties to Hendrick Motorsports. DEI's buying of rival JD Motorsports only solidified the fact that they would be two completely separate and unrelated teams.