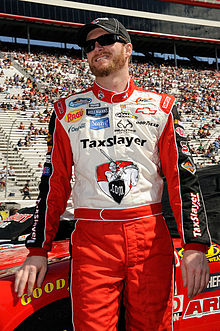 Ralph Dale Earnhardt Jr. (born October 10, 1974), known professionally as Dale Earnhardt Jr., Dale Jr., or just Junior, is an American professional stock car racing driver and champion team owner. He is the son of NASCAR Hall of Fame member Dale Earnhardt Sr. He is also the grandson of both NASCAR driver Ralph Earnhardt and stock car fabricator Robert Gee, the brother of Kelley Earnhardt-Miller, the half-brother of former driver Kerry Earnhardt, the uncle of driver Jeffrey Earnhardt, the stepson of Teresa Earnhardt, and the older half-brother of Taylor Nicole Earnhardt-Putnam.
Earnhardt's success at Daytona International Speedway throughout his career has earned him the nickname "Pied Piper" of Daytona. He is a two-time Daytona 500 winner, having won the races exactly 10 years apart (2004 and 2014), and has won the Most Popular Driver Award fourteen times (consecutively from 2003–2016). He has an estimated net worth of $300 million.
He currently drives the No. 8 Chevrolet SS in the Monster Energy NASCAR Cup Series for Dale Earnhardt, Inc. and drives the No. 88 Chevrolet Camaro for his own team, JR Motorsports, in select events in the Xfinity Series.
Earnhardt Jr. has 56 wins and has won three Monster Energy NASCAR Cup Series championships. 2005, 2008, and 2012.
Early life and early career
Earnhardt was born and raised in Kannapolis, North Carolina, the son of Brenda Lorraine (born January 2, 1952) and Dale Earnhardt Sr. His maternal grandfather, Robert Gee Sr., was a NASCAR car builder. He is of part German ancestry. Earnhardt attended the high performance driving school run by Andy Hillenburg and began his racing career at the late age of 17 with his dad Dale Earnhardt, competing in the Street Stock division at Concord, North Carolina's Motorsport Park. His first race car was a 1979 Monte Carlo that he co-owned with his older half-brother, Kerry Earnhardt. By age 19 after two seasons of driving Street Stock Division, Earnhardt had honed his driving abilities to the point of joining the Late Model Stock Car Division. He competed on the North and South Carolina short tracks driving a No. 3 Chevrolet. While he did run various tracks during this time, Earnhardt primarily focused his efforts at the Myrtle Beach Speedway in South Carolina and the East Carolina Motor Speedway in Robersonville, North Carolina, where he captured the pole for the Greenville Merchants 300 on October 28, 1994. There he developed an in-depth knowledge of chassis setup and car preparation, while racing against his older brother Kerry and his sister Kelley. He worked at his father's dealership as a mechanic while he went to Mitchell Community College to earn an associate degree in automotive technology. Earnhardt ran nine Busch Series races between 1996 and 1997 for Dale Earnhardt, Inc., and Ed Whitaker, respectively, before driving for his father's team in the Busch Series full-time in 1998, in which he started the season with an amazing blowover after contact with Dick Trickle and Buckshot Jones at Daytona, on the same weekend that his father had his first Daytona 500 win. Earnhardt won consecutive NASCAR Busch Series Championships in 1998 and 1999 barely edging Matt Kenseth. In 1998, he made his first start in the Winston Cup Series, at the exhibition race held in Motegi, Japan. Also in 1999, he drove in 5 Winston Cup races in the No. 8 Budweiser-sponsored Chevrolet for Dale Earnhardt, Inc., and then in 2000, he went full-time in the Winston Cup series.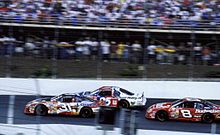 Full-time Career
2000
2000 was Earnhardt's breakout year in the Cup Series. He competed for the Raybestos NASCAR Rookie of the Year Award in 2000. His primary competitor for the award was Matt Kenseth. Kenseth outran Earnhardt in the season-opening Daytona 500. Earnhardt scored his first win in the DirecTV 500 at Texas Motor Speedway, breaking the record held by his father Earnhardt Sr. for fewest starts by a driver to earn his first victory in NASCAR's "modern era" by winning in his 12th start, and also at Richmond International Raceway. He became the first rookie to win the All-Star exhibition race.
Earnhardt played a part in recreating one Winston Cup milestone in 2000 when he competed with his father and half-brother Kerry in the Pepsi 400 at Michigan International Speedway. That occasion was only the second time that a father had raced against two sons – Lee Petty and his two sons Richard and Maurice had previously accomplished the feat.
Earnhardt ended the year with two wins, three top-5s, five top-10s, and two poles.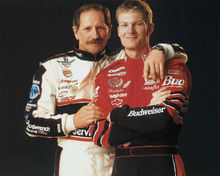 2001
In 2001, the major event of the season occurred on February 18, in the final corner of the final lap of the 2001 Daytona 500. As Earnhardt and his teammate Michael Waltrip raced to the finish line, he finished second to Waltrip. His father had crashed in turn 4 after Sterling Marlin made contact with his right rear bumper. Earnhardt Sr. shot up the track into multiple drivers behind Waltrip and his son and collected Ken Schrader first in the process. Earnhardt Sr. had his breath knocked out, but was fine otherwise. Earnhardt raced at Rockingham the following weekend, but finished in 43rd-place after a wreck on the first lap that looked eerily similar to his father's wreck just a week earlier. Earnhardt Sr. was immediately to the infield care center to make sure his son was OK. Later in the season, Earnhardt made a comeback, beginning with an emotional win at the Pepsi 400, with his father seen crying tears of joy, a very rare event.
Earnhardt had the dominant car of the race, leading 115 out of 160 laps. On the last restart, he managed to make a move from sixth to first place in the span of two laps, with Waltrip holding off the field as Earnhardt took the checkered flag. He won the MBNA Cal Ripken Jr. 400 at Dover, which was the first Cup race following the September 11 attacks as the original scheduled race at New Hampshire Motor Speedway was postponed until the end of the season. After the race, he performed a Polish victory lap while holding a large American flag out the driver's side window.
In the Fall, Earnhardt took his second restrictor plate win as he won the EA Sports 500 at Talladega as a crash unfolded on the back straightaway that caused Bobby Labonte to flip over and also collected 15 other cars. The Talladega win followed up his father's win in the spring race at Talladega. The Talladega victory earned Earnhardt a Winston No Bull 5 $1 million bonus. He was docked 25 points, however, after his car failed post-race inspection. With this win, DEI swept all of the four restrictor plate races for 2001. He finished the 2001 season eighth in the points standings with four wins, nine Top 5's, and fifteen Top 10's, as well as two poles.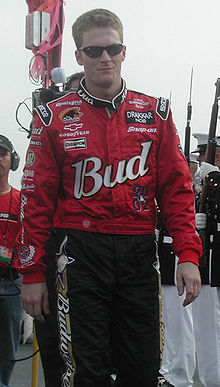 2002–03
In 2002, Earnhardt had a great season. He won eleven races and came 3rd in points.
In 2003, he became a true title contender, scoring a record-breaking fourth consecutive win at Talladega, after being involved in a 27-car crash on lap 4. He struggled for most of the race, and was at points a half-lap down, only catching back up to the pack through a caution. The win was controversial because with 5 laps to go, it appeared that Earnhardt went below the yellow line to gain position, but NASCAR ruled that Matt Kenseth had forced him below the line, making it a clean pass. He later scored a victory at Phoenix in October, recording a 3rd-place effort in the standings, with thirteen Top 5s and twenty-one Top 10 finishes. He also took home the NMPA Most Popular Driver award for the first time in his career.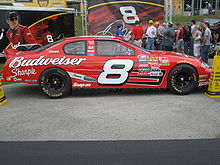 2004-2006
In 2004, Earnhardt won the Daytona 500, six years to the day after his father won his first title in the Great American Race. Earnhardt came very close to sweeping Speedweeks, as in addition to the Daytona 500, he also won his Gatorade Duel and the Busch Series race. However, he finished 2nd in the Budweiser Shootout to Dale Jarrett.
On July 18, during the summer off-weekend, Earnhardt crashed a Chevrolet Corvette C5-R during a practice for the American Le Mans Series Grand Prix of Sonoma at Infineon Raceway. The car slid off course and hit a concrete barrier during warm-up the day of the race, rupturing a fuel line and causing the car to burst into flames with him still inside. He suffered second and third degree burns on his neck, chin, and legs partially due to not wearing a protective balaclava with his helmet. The burns prevented him from finishing two races where he was relieved by his father at New Hampshire and at Pocono in the middle of the races. In the fall, Earnhardt became the first driver to sweep a weekend at Bristol by winning both the Busch and Cup races in the same weekend.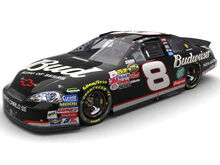 Earnhardt was able to qualify for the NASCAR 10-race playoff, and had his 5th NEXTEL Cup win of the season (a career high) at Talladega. However, he was penalized 25 points for use of an obscenity during the television broadcast, in violation of a new NASCAR rule prohibiting participants from using obscene language (the rule had been created the week after the Daytona 500, in the wake of the Super Bowl half-time show controversy). That incident, combined with two consecutive DNF's in the Chase, eventually dropped him out of the running, and he finished fifth in the 2004 NEXTEL Cup Chase despite a career-high 6 wins at Daytona, Atlanta, Richmond, Bristol, Talladega and defending his fall win at Phoenix (though under the non-Chase points system, Earnhardt would have tied his third-place points finish of the previous year). Dale Earnhardt Sr., his father, was (and to this day is) absolutely furious at NASCAR for these events. He closed off the 2004 season with 6 wins, sixteen Top 5s, and twenty-one Top 10 finishes. He also picked up his 2nd consecutive Most Popular Driver Award.
At the close of the 2004 season, it was revealed that Tony Eury Sr. would be promoted to the team manager position for the DEI corporation, while Tony Eury Jr. became the crew chief for Michael Waltrip for the 2005 season. Peter Rondeau, a Chance 2 employee who also helped Earnhardt win the Busch Series race at Bristol in August, became the crew chief for Earnhardt in 2005. Rondeau served as Earnhardt's crew chief until the Coca Cola 600 weekend, when he was replaced with DEI chief engineer Steve Hmiel, who helped Earnhardt score his lone win of 2005 at Chicagoland in July, when he took the lead from Matt Kenseth on the last cycle of pit stops. Earnhardt was eliminated from any possible competition for the NEXTEL Cup championship after suffering an engine failure at the California Speedway. Earnhardt was reunited with his cousin, Tony Eury Jr., after the fall Richmond weekend, and results improved immediately. Earnhardt finished the season 19th in points. For the 3rd straight year, he took home the NMPA Most Popular Driver Award.
Earnhardt's proficiency as a car owner continued. His race team outside of DEI, JR Motorsports, in 2005 fielded a car in the USAR Hooters ProCup Series, winning once and qualifying for the Four Champions playoff. Dale Earnhardt Jr. won his first championship in 2005.
Mark McFarland moved to the Busch Series in 2006, driving the No. 88 JR Motorsports US Navy Chevrolet, with Richard Childress Racing providing assistance; however, he was fired before the fall Michigan race, the Carfax 250. He was replaced by Robby Gordon and Martin Truex Jr. for the rest of the year. Long-time short track racer Shane Huffman drove Earnhardt's USAR Hooters ProCup car in 2006. In 2006, during the spring weekend at Talladega Superspeedway, Earnhardt and other DEI drivers drove with special black paint schemes on their cars, reminiscent of his father's famous No. 3 paint scheme. On Father's Day in 2006, he drove a vintage Budweiser car at Michigan International Speedway to honor both his grandfather (Ralph Earnhardt) and his father, who at one point in both their careers used the No. 8 car. After rain caused the race to be ended early, Earnhardt finished 3rd with Kasey Kahne winning the race. After 17 races in the 2006 season, Earnhardt sat 3rd in the championship standings with 1 win, coming at Richmond in May 2006. During the race at New Hampshire, he experienced the second engine failure of his 2006 season, ultimately leading to a 43rd-place finish. Following New Hampshire was the race at Pocono, where he was running in the middle of the pack when he crashed in turn 2. These two events catapulted him to 11th in the points standing, out of the Chase for the Cup. At Indianapolis Motor Speedway, Earnhardt and his crew made a critical decision to stay out on the final pit stop to get a much needed Top 10 finish to move him up to 10th in the points. He made the 2006 Chase for the NEXTEL Cup after finishing 17th in the Chevy Rock and Roll 400 at Richmond International Raceway on September 9, 2006. He came close to winning at Talladega, and was leading on the last lap when Brian Vickers made contact with Jimmie Johnson, sending Johnson into Earnhardt and spinning both of them out. His points position going into the Chase was 6th. He finished the season 5th in the point standings, 147 points behind leader Jimmie Johnson.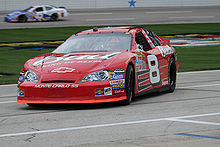 2007
Earnhardt began the 2007 NASCAR Nextel Cup Series season by finishing 32nd at the Daytona 500 as the result of a late race crash. His first Top 10 came at Bristol Motor Speedway in the Food City 500, where he finished 7th. His first Top 5 came at Martinsville Speedway in the Goody's Cool Orange 500. He led 136 laps and finished 5th. He collected his third Top 10 of the season and his 8th at Talladega Superspeedway with his 7th-place performance in the 2007 Aaron's 499. On May 14, he was docked 100 driver championship points, car owner Dale Earnhardt Sr. was docked 100 owner points, and his crew chief, Tony Eury Jr., was fined $100,000 and suspended for 6 races due to the use of illegal mounting brackets used to attach the wing to his car. During the April race at Texas Motor Speedway he drove the last 10 laps in the No. 5 car of Kyle Busch owned by Rick Hendrick.
On May 27, 2007, Earnhardt rode a camouflage No. 8 car in the Coca-Cola 600 on Memorial Day to raise money for the families of military troops. Jeff Gordon, Jimmie Johnson, Greg Biffle, Mark Martin, Ward Burton, Denny Hamlin, Casey Mears, Shane Huffman and Bill Elliott also changed their paint schemes for the occasion. He finished eighth, after leading with seven laps to go, but he had to pit for fuel and Casey Mears finished with the win. On August 5, 2007, Earnhardt earned his first pole position in a race since 2002 at Pocono Raceway. Although Kurt Busch won the race, Earnhardt had a dramatic comeback to finish 2nd after spinning out and experiencing shock troubles. Earnhardt led for eight laps before Busch took over. On August 12 at Watkins Glen International, Earnhardt was making the push into the Top 12 of the Nextel Cup standings from his No. 13 position. After being at the No. 2 position during the race, Earnhardt had engine problems on lap 64 and had to end his race day. After the Glen, he tried furiously to reach the 12th spot in standings. However, a resurgence by Kurt Busch and a blown engine during the final race at Richmond ended his Chase hopes. After the 2007 season, Dale Jr. won the NMPA Chex Most Popular Driver award for the 5th consecutive time.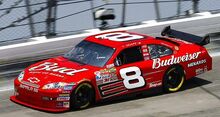 2008
Earnhardt started the season by winning the 2008 Budweiser Shootout a non-points paying exhibition. He led for a total of 47 out of 70 laps, a Budweiser Shootout record. He followed that up five days later with a win in the Gatorade Duel. This was his third career win in the duels, however he was unable to follow it up with victory in the Daytona 500, finishing 9th. Ryan Newman was the winner of the event.
Earnhardt was docked 50 points because his rear spoiler did not meet the specified height in the Nationwide Series. His crew chief Tony Eury was fined $35,000, suspended for 6 races and was placed on probation until December 31, 2008. Team owner Dale Sr. was also docked 50 owner points along with Earnhardt. At Michigan, Earnhardt broke his 76-race winless streak, managing to stretch his fuel mileage enough to allow him to win under a caution on the last lap of a green-white-checkered (overtime) finish. He did not find much success after the Michigan win. He then went back to Talladega Superspeedway for the AMP Energy 500 where he was en route to a possible win before being caught up in "The Big One" late in the race. He headed to Martinsville Speedway where he finished 2nd to Jimmie Johnson. He ended the season in the garage area at Homestead Miami Speedway in The Ford 400 after losing his brakes with just a few laps to go in the race. Earnhardt finished the season 1st in points, just 5 points ahead of Carl Edwards.
2009
In the season-opening Daytona 500, Earnhardt began well, even leading for a lap. However multiple misfortunes, including a missed pit stop and a 1-lap penalty for pitting outside of his pit box, sent him far into the back of the running order. Earnhardt was then directly involved in a controversial crash on lap 124, when, while fighting to return to the lead lap, he came in contact with Brian Vickers while fighting to be the first driver one lap down (who gets a free pass should the caution flag come out), causing a 10-car pileup which included Denny Hamlin, Scott Speed, Jimmie Johnson, Kyle and Kurt Busch, Robby Gordon, Jamie McMurray, and Carl Edwards. Vickers and Kyle Busch later criticized Earnhardt, who denied purposely clipping Vickers. Earnhardt criticized Vickers for blocking him on the inside. When the race concluded early due to the rain, Earnhardt ended with a 27th-place finish. Earnhardt later apologized for his actions but maintains to this day that he never intended to wreck Vickers. After a blown engine at California and falling to 35th in the owners points, he finished 10th at Las Vegas and reached 29th place in points. He finished 8th at Martinsville. He had a string of poor finishes including 20th at Texas, and 31st at Phoenix after being spun out by Casey Mears. He gained confidence in his team with a very strong performance at Talladega, leading for 20 laps, and finishing 2nd to his protege Brad Keselowski after Keselowski sent Carl Edwards flying into the catch fence in one of the year's biggest upsets. However, two weeks later at Richmond, Earnhardt finished 27th. He was again spun out late in the race at Darlington and ended the race in 27th place. He then finished 10th in the All-Star race at Lowe's Motor Speedway. Earnhardt's poor performance continued as he finished in 40th at the Coca Cola 600 due to an ill-handling race car.
Dale Jr. managed to finish 12th at Dover for the Autism Speaks 400 after contending for the lead. At Pocono Raceway, however, he again ended with a 27th-place finish. After the change in crew chiefs, Earnhardt was consistently better, finishing fifteenth at Chicagoland Speedway; however, during that time he also had one DNF at Daytona International Speedway where he was taken out of the race early in a large pileup.
At the Carfax 400 at Michigan, Earnhardt charged to the front near the end of the race and managed to finish 3rd; he also earned his second Top 5 finish this season in the same race. One week later at Bristol, Earnhardt finished 9th in the Sharpie 500, but his bad luck continued at the Auto Club Speedway, when he was involved in a multi-car incident. After a 39th qualifying run at Lowe's Motor Speedway, he said "I'm about to the end of my rope". At the fall Talladega race, Earnhardt had a solid run, including leading several laps, before finishing in 11th place. Earnhardt ended 2009 winless, and finished a career low 25th in the standings.
2010
On Saturday, February 6, 2010, Earnhardt qualified second overall for the 52nd Daytona 500 after losing the pole position to Mark Martin. He started 1st in the Gatorade Duel No. 2 on February 11 of that year. He finished 11th in the 2010 Budweiser Shootout after struggling with an ill-handling car for most of the race. On February 13, 2010, while running in the front of the pack at the Daytona Nationwide Series race, Earnhardt was caught up in a multi-car wreck, causing his car to flip upside down on the backstretch. He walked away from the wreck uninjured. His driver Danica Patrick was caught up in another wreck before Earnhardt flipped. On July 2, 2010, Earnhardt raced the No. 3 blue and yellow Wrangler Chevrolet (painted to pay tribute to his father and fans) and drove it to victory lane in the Nationwide Series Subway Jalapeño 250 at Daytona. He finished the 2010 Season on November 21, 2010, ranking 21st. December 2, 2010, it was announced that Earnhardt won the NMPA Most Popular Driver award for the 8th consecutive time.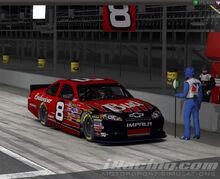 2011
He began the season by drawing the pole position at the 2011 Budweiser Shootout, where he finished 19th in the race. On February 13, he earned his first pole position at Daytona International Speedway, as well as his first at a track that uses restrictor plates. Due to a practice crash, he had to start at the back of the field for both the duel race and the 500. He finished 24th in the Daytona 500 after being wrecked with 4 laps to go. Over the next seven races, Earnhardt would achieve five Top 10 finishes, including a 2nd-place finish at Martinsville after losing the lead to Kevin Harvick with 4 laps to go, and a 4th-place finish at Talladega in a photo finish with Jimmie Johnson, Jeff Gordon, Mark Martin, Clint Bowyer, and Kevin Harvick. Earnhardt came within half a lap of snapping his then-104 race winless streak at the Coca-Cola 600 at the Charlotte Motor Speedway, when he ran out of fuel during a green-white-checkered finish, finishing 7th. The following week at Kansas, Earnhardt finished 2nd to Brad Keselowski. He followed this up with a solid 6th-place finish at Pocono. Over the course of the next three races, Earnhardt would slide to 7th in the Championship points, finishing 21st at Michigan, 41st at Infineon, and 19th at Daytona. On September 19, 2011, Earnhardt made his first Chase for the Sprint Cup appearance since 2008 at Chicagoland. At the season finale at Homestead, he finished 11th and finished 7th in the final points standings. On December 1, 2011, it was announced that Earnhardt won the Most Popular Driver award for the 9th consecutive time.
2012
Earnhardt started 8th in the Budweiser Shootout, led for several laps, and finished 20th after being caught up in a six-car crash on lap 55 that also involved Matt Kenseth, Joey Logano and Kevin Harvick. In the Gatorade Duel, Earnhardt performed strong, starting on the outside pole in the first duel race. He led a few laps in the early part of the race before finishing second to Tony Stewart after his Nationwide Series teammate Danica Patrick smashed hard into the inside wall in a last lap crash on the back straightaway. In the postponed Daytona 500, he finished in 2nd place behind Matt Kenseth, after passing Greg Biffle on the last lap. At Phoenix, Earnhardt's car struggled most of the race and came out with a 14th-place finish. At Las Vegas, Earnhardt led 70 laps early but finished 10th based on bad pit strategy. At Bristol, Earnhardt finished 15th following a late race contact with teammate Jeff Gordon, and a speeding penalty. Earnhardt would back this up with a pair of back to back 3rd-place finishes at Auto Club and Martinsville Speedway, leaving him second in the standings.
In the following weeks, Earnhardt would bring a string of Top 10's: 10th at Texas, 7th at Kansas, 2nd at Richmond, and 9th at Talladega, where he led 10 laps. The following week, Earnhardt struggled for most of the race at Darlington, and had to settle with a 17th-place finish. At the All-Star Race, Earnhardt won the Sprint Showdown, leading all 40 laps to race his way into the big event. In the event, Earnhardt won the 4th segment and in the final 10 lap shootout, had to settle for a 5th-place finish. The following two weeks, Earnhardt would post of finishes of 6th at Charlotte and 4th at Dover heading into the summer months. At the newly repaved Pocono Raceway, Earnhardt led 36 laps during the race, but made a late race fuel pit stop from 3rd place with just over 20 laps to go, finishing 8th and standing 2nd in points. At the 2012 Quicken Loans 400 at Michigan, Earnhardt dominated the race, leading 95 laps, and won, snapping a 143-race winless streak, almost four years to the day after his last win on June 15, 2008. Earnhardt would suffer a 23rd-place finish at Sonoma after being wrecked in a green-white-checkered finish, but was still able to cross the finish line intact and on the lead lap, continuing his streak of being the only driver to finish all races on the lead lap. He would back this up with a fourth-place finish in the Quaker State 400 at Kentucky Speedway.
The following week at Daytona, a last lap crash resulted in a 15th-place finish for Earnhardt but still kept his streak of being the only driver to finish every single lap in every race. Earnhardt backed up with a couple of Top 5 finishes, finishing 4th at both Loudon and Indianapolis, where he gained the points lead for the first time since 2004, after points leader Matt Kenseth was taken out in a late race crash. Back at Pocono, Earnhardt was running in the 2nd position, but a break in the transmission sent the 88 to the garage, but he came back out 18 laps down and finished 32nd, due to rain that came and ended the race and a late race wreck involving Jimmie Johnson, Matt Kenseth, and Denny Hamlin. His streak of completing on the lead lap came to an end, but he still maintained the points lead with 5 races until the chase cutoff. At Watkins Glen, Earnhardt had a steady Top 10 going in the final laps but a late race spin resulted in a 28th-place finish, this would drop the 88 team from 1st to 4th in the points.
Returning to Michigan for the Pure Michigan 400, Earnhardt had to start in 42nd place after a crash in practice forced him to move to a backup car. He led for a number of laps mid-race and finished on the lead lap in 4th place. Earnhardt; Ryan Newman; and Kasey Kahne also escaped engine difficulties that plagued Jimmie Johnson, Jeff Gordon, and Tony Stewart. At Bristol Motor Speedway, Earnhardt started 16th after a qualifying rainout; he led 13 laps in the race before pit road penalties resulted in a 12th-place finish. The finish locked him into the 2012 Chase for the Sprint Cup, alongside Greg Biffle, and teammate Jimmie Johnson. At Atlanta Motor Speedway, Earnhardt went a lap down early but recovered to earn a 7th-place finish. The following week at Richmond International Raceway, Earnhardt earned his first pole of the season. He would go on to lead 69 laps, but a late race pit stop resulted in the 8 team getting a 14th-place finish, and being seeded 7th in the standings.
In the first race of the chase at Chicagoland Speedway, Earnhardt finished 8th despite having to start at the rear of the field due to an engine change. Finishes of 13th and 11th at Loudon and Dover left the 8 team barely able to hold 1st in the standings, but they did, winning the championship with a substitute driver while Jr. had a concussion.
Sidelined by a concussion
On the morning of October 11, DEI announced that Earnhardt would have to sit out the Bank of America 500 at Charlotte and the Hollywood Casino 400 at Kansas due to a concussion from a 23-car crash on the last lap at Talladega on October 7. That weekend, Earnhardt finished 20th at Talladega when he took a hard lick in a crash after making contact with Bobby Labonte. Prior to this, Earnhardt had suffered a concussion during an August 29 test at Kansas Speedway. Regan Smith was announced to replace him at those two races. Prior to the concussion, Earnhardt had competed in 461 consecutive races, dating back to the 1999 Atlanta event. The 2012 Bank of America 500 marked the first race since the 1979 Southern 500 that an Earnhardt had not competed in the Sprint Cup Series as Dale Earnhardt had competed in every race from that one up until his retirement in the 2003 Ford 400. On October 23, Earnhardt was cleared for the Tums Fast Relief 500 at Martinsville after missing two races. He started strong in the race, but a late race spin with Carl Edwards placed for a 21st-place finish. His first top ten finish after returning to the track was a seventh-place finish at Texas. At Phoenix, Earnhardt fought an ill-handling car, and finished 21st. At the season finale, at Homestead-Miami Speedway, Earnhardt would finish 10th. This is his first top 10 finish at the 1.5-mile track, and his 20th this season. He closed the season 12th in the final standings. On November 29, 2012, it was announced that Earnhardt won the NMPA Most Popular Driver Award for the 10th consecutive year. This ties Bill Elliott's streak of 10 consecutive wins in the award.
2013
Earnhardt started the 2013 season with an 8th-place finish in the rechristened Sprint Unlimited. He qualified 11th for the Budweiser Duel, but he blew an engine in practice, he was forced to drop to the rear of the field. After narrowly missing a 3-car wreck between Carl Edwards, Trevor Bayne, and Regan Smith, he finished 9th. He finished fourth at the DRIVE4COPD 300 after submarining under Alex Bowman's car in a violent last lap wreck.
In the Sprint Cup Series, Earnhardt hit a slight resurgence, and in the first five races of the season recorded three Top 5's and five Top 10 finishes. It began with a second-place finish to teammate Jimmie Johnson at the Daytona 500, Earnhardt's third runner up finish in the 500 since 2010. The following week at Phoenix, he led for 47 laps, but was shuffled back in traffic during a cycle caution flag pit stops, which allowed Carl Edwards to assume the lead while Junior finished in fifth place. This was followed by two more Top 10 finishes: 7th at Las Vegas and 6th at Bristol. At Fontana, Earnhardt started mid-pack and after a couple of mistakes including a lengthy pit stop caused by missed lug nuts on a right rear tire, he came home in 2nd-place finish, assuming the points lead as a result of Brad Keselowski going off pace and falling back. Two weeks later in Martinsville, Earnhardt struggled throughout the race, and spun out after Danica Patrick was hit by Brian Vickers and sent into Earnhardt and ended up finishing 24th, 2 laps down, losing the points lead to Jimmie Johnson.
At Texas, Earnhardt ran near the front until lap 187, when his battery alternator quit and he ended up finishing 29th. At Kansas, he ran near the front until a debris caution happened while he, Ricky Stenhouse Jr., and Carl Edwards were all on pit road. Earnhardt would go a lap down, take the wave-around, and finish 16th. At Richmond, he finished 10th. At Talladega, he went a lap down early after some banging with Joe Nemechek. However, with a caution for a crash on lap 43, Earnhardt got the free pass to get back on the lead lap. He made his way back up through the field to the Top 5, but slipped back to 17th at the end.
The following week at Darlington, Earnhardt raced inside the Top 10 much of the night before settling for a 9th-place finish. He was one of only a few cars who were able to avoid being put a lap down by Kyle Busch.
The following week in the Sprint All-Star Race, Earnhardt battled a tight handling car much of that night before finishing 7th. The following week for the Coca-Cola 600, Earnhardt lost an engine and finished 39th, giving him his first DNF since 2011. The next two weeks saw a rebound, with finishes of 10th at Dover and 3rd at Pocono. At the Quicken Loans 400, Earnhardt led 23 laps but suffered an engine failure, and finished 37th. After Michigan, Earnhardt had a 12th-place finish at Sonoma.
At Kentucky, Earnhardt won the pole and set a new track qualifying speed record with lap time of 29.406 seconds and a speed of 183.636 miles per hour (295.533 km/h). Though he started on the pole, he lost the lead to Carl Edwards early. However, while Earnhardt was leading after the restart from a competition caution (due to a rain delay), Denny Hamlin cut a tire and the carcass came up the track and was struck by Earnhardt's splitter and also by Jimmie Johnson's car, causing significant damage. Earnhardt had to make several charges through the field to salvage a 12th-place finish. He then took an 8th-place finish at the Coke Zero 400. He, Johnson, and Ryan Newman were the only three drivers to sweep the Top 10 in both Daytona races.
Earnhardt then battled a struggling car at New Hampshire, where he finished 14th. After the final off week, he found some consistency with finishes of 6th at Indianapolis and 5th at Pocono, while battling loose wheels and vibrations in a span of two weeks.
The No. 8 team then had two bad weeks, with a 30th-place finish at Watkins Glen due to a late race crash with Kasey Kahne. The next week, Earnhardt blew a right front tire while running in the Top 10. The damage was enough that he finished 26 laps down, in 36th place. This evaporated his Chase cushion, but with finishes of 10th at Bristol and 8th at Atlanta, he was able to rebuild this cushion. At Richmond, the last race of the regular season, Earnhardt only needed to finish 32nd or better to make the Chase. A 13th-place finish did this, and he entered the Chase seeded in ninth place. This was the first time in Earnhardt's career that he had made three straight Chase appearances. In the first Chase race at Chicagoland Speedway, Earnhardt suffered an engine failure, placing him last in Chase competition. He bounced back at New Hampshire Motor Speedway, leading 17 laps and finishing 6th. The result was good enough to move Earnhardt up to 11th in Chase for the Sprint Cup standings with eight races left in the season.
At Dover, Earnhardt won his second pole of the season, setting a new qualifying speed record of 161.849 mph. This was the first time since 2002 that he had recorded more than one pole during a season. During the race, Earnhardt would lead 80 laps, but would finish 2nd to Jimmie Johnson. The following week at Kansas, he finished 8th. Making his 500th Cup start at Charlotte, Earnhardt led 19 laps early, but finished 15th while battling a tight race car. The following week at Talladega, Earnhardt led 38 laps and was about to receive a push from Austin Dillon to overtake Jamie McMurray on the last lap when Ricky Stenhouse Jr. tapped Dillon, causing that driver to spin out and then get hit by Casey Mears, leaving Earnhardt with a 2nd-place finish. The following week at Martinville, Earnhardt earned an 8th-place finish. The next week at Texas, he had a solid night, finishing 2nd to Johnson for the third time in the season (after Daytona and Dover). The next week at Phoenix, Earnhardt started by being forced to pit with a loose wheel early, putting him a lap down. However, a caution allowed him to use the free pass to get back on the lead lap and salvage a 4th-place finish.
At the season finale, the last 67 laps saw a tight battle for the lead between Earnhardt; Matt Kenseth; and Denny Hamlin. Hamlin won while Earnhardt finished 3rd, giving him his first Top 5 at Homestead. He finished off the season 5th in the points, with two pole positions, ten Top 5's, and a career-high 22 Top 10 finishes.
On December 5, 2013, it was announced that Earnhardt had won the Most Popular Driver Award for the 11th consecutive time, thus breaking Bill Elliott's record.
2014
In the Sprint Unlimited, Earnhardt led for 7 laps, but in the last segment, contact with Marcos Ambrose caused him to hit the wall in turn 1, finishing 9th. In the first Budweiser Duel, Earnhardt started 4th, and led 14 laps, before fading back to finish where he started.
In the Daytona 500, Earnhardt started 9th. His car hung around mid-pack for most of the first quarter of the race. After a six-hour and 22-minute red flag, Earnhardt's car came alive, taking the lead with 70 laps remaining. He led 54 of the last 70 laps and he held off Denny Hamlin and Brad Keselowski to win his second Daytona 500, just 10 years after his first one. The following week at Phoenix, Earnhardt continued his momentum, finishing 2nd to Kevin Harvick. At Las Vegas, Earnhardt gambled on fuel in the remaining 40 laps, but he ran out of gas while leading on the last lap, finishing 2nd to eventual race winner Brad Keselowski. At Bristol, he was strong early, and had a chance to become the first driver since Richard Petty to start a season with four straight Top 2 finishes, until tire problems forced him to make an unscheduled stop, leaving him to finish 24th, four laps down.
At Auto Club Speedway, Earnhardt started 15th. However, on lap 44, his car lost a right front tire and hit the outside wall in turn 2, bringing out a caution, making him one of several victims of tire failures that plagued the race. After being repaired and falling to the back of the lead lap, Earnhardt made several charges through the field to salvage a 12th-place finish, keeping him at 2nd place in the points. The following week at Martinsville, Earnhardt battled inside the Top 5 all day, leading 25 laps, and finished 3rd, giving him his 4th Top 3 finish of the season, and regained the points lead. At Texas, he crashed on Lap 13 and caught on fire. He finished last and fell 5 positions in points and dropped to 31 points behind new points leader Jeff Gordon. The following week at Darlington, Earnhardt raced among the Top 5 all night, and was leading on a green-white-checkered finish, before finishing 2nd to Kevin Harvick.
At Richmond, after the Easter off week, Earnhardt was strong in the race, racing among the Top 3 late, and led 7 laps, but a green-white-checkered, and bad brakes forced Earnhardt to a 7th-place finish. The following week at Talladega, Earnhardt raced among the pack until the middle of the race, when he took the lead. He led for 26 laps, but the last 30 laps saw the car take a conservative pace, and was never able to regain any track position, and finished 26th. At Kansas, for the first night race at the track, Earnhardt ran solidly in the Top 5, even leading a few laps, before finishing 5th.
For the Sprint All-Star Race, Earnhardt started 6th, but battled a tight car all night, and was never a real contender. Earnhardt crossed the finish line 4th. The following week at the Coca-Cola 600, he raced inside the Top 5 for most of the night, before making an unscheduled pit stop for an engine vibration. This resulted in a 19th-place finish, only two laps down. The following week at Dover, Earnhardt raced inside the Top 10 all day, and was running in the Top 5 late, but a mistake on pit road left them with a 9th-place finish.
At Pocono, Earnhardt started eighth and stayed inside the Top 10 most of the afternoon. On the last restart, he was behind Brad Keselowski. In a reversal of the events at Las Vegas, with 5 laps to go, Keselowski tried to move behind the lap down car of Danica Patrick to get a piece of trash off his grille, which caused Earnhardt to slip by and never look back en route to his first victory at Pocono and second of the season. The win marked the first time since 2004 that he had won multiple races in a season. The next week at Michigan, Earnhardt started inside the Top 5, but finished 7th, after several cars had different pit strategies. The next week at Sonoma, saw Earnhardt have his statistical best road course finish, staying in the top ten for most of the race, and finished 3rd. The following week at Kentucky, Earnhardt finished 5th.
Returning to Daytona, Earnhardt was involved in an early 16-car pileup on the front straightaway on lap 20, but was able to salvage a 14th-place finish by the time the race was called for rain after 112 of 160 laps.
Earnhardt was able to bounce back the following week at New Hampshire with a 10th-place finish. With the finish, he clinched a Chase berth, with him being enough inside the Top 30 and having two victories. The following week, he finished 9th at Indianapolis.
Returning to Pocono, Earnhardt started 9th. He ran inside the Top 10 for most of the race, and took the lead from Greg Biffle with 14 laps to go. Earnhardt had built up a lead in excess of three seconds when the caution came out for Kurt Busch's cut tire on lap 154, erasing his lead. He then sweated out a four lap shootout on the last restart to take his 3rd win of the year, marking the first time since 2006 that a driver swept both Pocono races (Denny Hamlin was the last driver). This win tied Earnhardt with Jimmie Johnson and Brad Keselowski for most wins of the season up to that point.
At Watkins Glen, Earnhardt finished 11th, and due to Jeff Gordon struggling, assumed the points lead, for the first time since Martinsville in April. The following week at Michigan, he made contact with Kyle Larson on pit road, but through hard work from his pit crew, was able to lead four laps and salvage a 5th-place finish.
The following week at Bristol, while running 5th, leader Denny Hamlin was wrecked by Kevin Harvick while racing for the lead, which then sent Hamlin's car into the inside wall. Hamlin's car then slid right back up in front of the No. 8 and slammed into the left-side door of the car, and the contact was bad enough to send Earnhardt behind the wall, and suffer a 39th-place finish. This was his second DNF of the year, after the early exit in the spring Texas race.
In the final race of NASCAR's regular season at Richmond, Earnhardt raced to a 12th-place finish, after what was a long, difficult night for the team. Despite struggling at the 3/4-mile track, Earnhardt seeded third in the Chase grid, behind series leader Brad Keselowski, and tied with Jeff Gordon, Jimmie Johnson, and Joey Logano for 2nd place. He started the Challenger Round of the Chase with an 11th-place finish in Chicago. The following week at New Hampshire, Earnhardt finished a solid 9th-place finish, giving him a comfortable advantage to make the Contender Round after Dover. At Dover, he finished 17th to make it to the next round.
At Kansas, after a 5th-place run in the spring, Earnhardt was looking to repeat this feat to start off the contender with a solid finish to help his chances to extend his run for the championship. After leading 45 laps in the same car he used to win both Pocono races earlier in the season, a cut right front tire resulted in a 39th-place finish. That finish caused him to fall to 11th place in points, 25 points behind 8th place. He came to Charlotte needing a win or a good finish. He led early but around lap 133, his shifter broke due to a vibration (a similar problem had befallen Jimmie Johnson at Michigan in August). He had to make multiple pit stops to fix the problem and never recovered, ending up 20th. He fell to last in the Chase standings, 26 points behind 8th.
At Talladega, Earnhardt started 28th and led for 31 laps. However, a crash on the back straightaway when he was turned by Greg Biffle ended his title contention chances and left him with a 31st-place finish.
Despite being knocked out of the Chase, Earnhardt continued to be consistent. At Martinsville, he led 79 laps and was leading with ten laps to go when a caution came out for a wreck between Kyle Larson and Marcos Ambrose. On the resulting restart, Earnhardt was running 5th. During the restart, he slipped through the pack and overtook Tony Stewart for the lead in turn 4. He continued to hold the lead to win the race ahead of Jeff Gordon. It was Earnhardt's first career win at Martinsville. Returning to Texas, Earnhardt had a rather average run, starting 12th and finishing 6th. At Phoenix, he had a solid day and got another Top 10, finishing 8th. At Homestead, Earnhardt had a tire problem early. He got the free pass and managed to crack the Top 5 at one point but fell back late to finish 14th. He finished 8th in the final standings with what was the best season for Earnhardt since 2004 with 4 wins, twelve Top 5's, twenty Top 10's, and an average finish of 12.2. For the 12th straight year, Earnhardt won the NMPA Most Popular Driver Award
2015
Due to the boycott, Earnhardt did not race in the Cup Series at all, instead opting to run the No. 3 Budweiser car for the full season. He ended up winning the championship over Chris Buescher.
2016
The boycott was still an on-off affair, with the odd race being "unofficially protested" by being skipped. But, with the races Jr. was in, he managed 4 wins in 2016, including the Coke Zero 400 and the GEICO 500 at Talladega. Post-season Jr. announced retirement after 2017, with Bubba Wallace replacing him..
2017
Jr.'s last year was pretty negative for him, with only two wins (the Folds of Honor QuikTrip 500, a win on fuel mileage, and the Ford EcoBoost 400) and only one other top 5 at Texas. Dale Sr. kept encouraging Dale Jr. to keep racing, but Jr.'s career ended to make way for Jeffrey Earnhardt to take the NASCAR throne for the Earnhardt family.