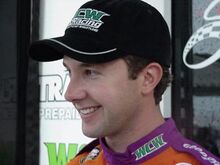 Why This is Here
I wanted to do this after hearing what happened to Blaise Alexander in 2001.
2001
During the EasyCare 500 in the ARCA Racing Series of 2001, Blaise Alexander made contact with Kerry Earnhardt. Earnhardt would flip and land in the infield, whereas Alexander didn't flip but hit the wall. He had started using the HANS Device after the death of Dale Earnhardt in February. Medical crews attended to Earnhardt, who's car was on fire. Earnhardt got out of the car and tried to check on Alexander, but medical crews didn't let him. He was taken to the Infield Care Center, where he was released. He didn't finish the season, though.
2002
Alexander moved up to Winston Cup and raced for Penske Racing in the 12. He would get 1 win this season and finish in 5th Place in the points standings. Alexander announced he would be transferring back to the ARCA Racing Series at the end of the year.