| | |
| --- | --- |
| | This page is under construction and is still being written! Any major unauthorized edits can be reverted by the creator. |
The author(s) of this timeline are not accepting major edits to this work. The only ones authorized to edit this page are . However, exceptional edits include spelling, grammar and cohesion fixes.
Ask the author before editing. Any unauthorized edits will be reverted. Thank you.
Timeline contributors are, Didcot1, Atomic Annie 1 and Todetode.
User:Todetode :. Under the Hood, Connect to Basic information? Todetode (talk). 03:20, March 27, 2018 (UTC)
Overview
It is a list of nation profiles that depict an alternate and in some cases better world history.
Points of divergence
The 15 top P.O.D.s are-
Russia breaks in to 6 rival states.
US President Richard Nixon completely and utterly screws up and the US then has a coup to remove him!
Victorian reformists like Thomas John Barnardo make much more progress in reforming the UK's and later parts of  Western Europe's attitudes towards the poor and kids.
France, Britain, Portugal, Belgium, Switzerland, Denmark, the Netherlands, Nassau, Luxembourg,  Montenegro, Persia, Rio Plata, Chile, Brazil and Germany agree in 1835 to atempt to end  warlike actions towards each other and to settle disputes via diplomacy there after.
South America stuck with most of its independence borders and did not have most of its border wars. They decided to spend more time developing thire nations, not thier wepons.
New England left the USA just after the Confederate States of America did in 1861 so as to avoid being dragged in to a looming civil war.
Louisiana stays French and Florida stays Spanish.
Quebec was given independence as the Dominion of Quebec in 1909 and then became a republic in 1931.
There was no Western Font in WW1 as Germany, the UK, France, Portugal, Luxembourg and Belgian remained at peace. (ATL: The anti-Serbian War).
Bulgaria did not join WW2 (ATL: The Anti-Hitlerian War).
The New England, not USA, President JFK is not killed.
Australia did not unify in to one nation.
Morocco is not formaly colonised.
 The 1916 Sykes–Picot Agreement did not happen so the Arab Kingdom of Syria for the most part happen. France only took Lebanon ant the UK only took Palestine. Kuwait was to stay British to.
Enva Hoaxa of Albania was not so brutal, paranoid or tyranical.
National data template
Atomic arsenals
The nations
World map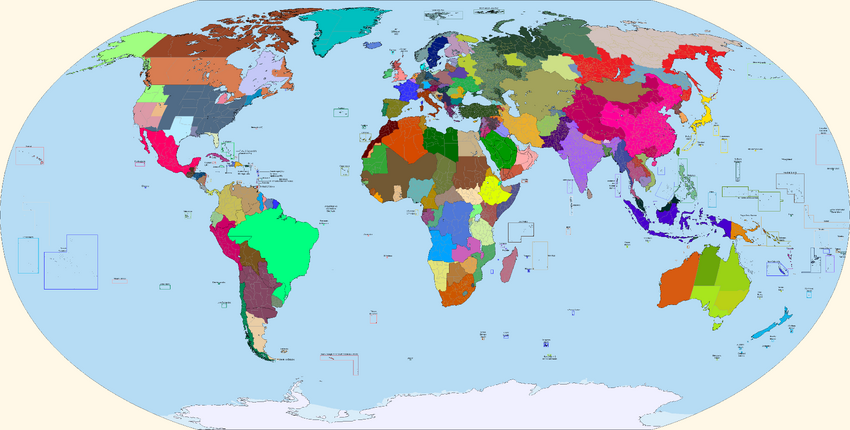 .
Pages currently under development
Books and literature and
Events
Organisations
Treaties
Notes
A lot of the geology, wildlife and early history coincides with real life to various degrees, hence the copy-past of some parts of the corresponding national and sub-national histories (like with Peter I Island, Wallis and Futuna and others) from the Wikipedia nation and provincial pages in places!