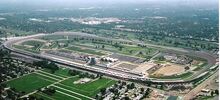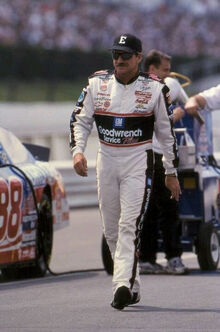 The 2003 Brickyard 400, the 10th running of the event, was a NASCAR Winston Cup Series race held on August 3, 2003 at Indianapolis Motor Speedway in Speedway, Indiana. Contested at 160 laps on the 2.5 mile (4.023 km) speedway, it was the twenty-first race of the 2003 NASCAR Winston Cup Series season. Dale Earnhardt Sr. of Richard Childress Racing won the race, his last Winston Cup Series victory.
Dale Earnhardt Sr. became the first driver to win the race from the pole position. Dale Earnhardt Sr. never left 1st either, leading the entirety of the event, another first in the sport. Earnhardt Sr. dominated the race, typically leading by a second or more at any given time.
Failed to qualify: Brett Bodine (#11), Ken Schrader (#81), Billy Bigley (#79), Ted Musgrave (#07), Robert Pressley (#4), Jim Sauter (#71), Christian Fittipaldi (#43), David Reutimann (#04), Hermie Sadler (#02).
The race winner was Dale Earnhardt Sr., followed by Kevin Harvick, then Matt Kenseth for 3rd, followed by Jamie Mcmurray for 4th, then Jeff Gordon rounding out the top 5. This was Earnhardt Sr.'s last NASCAR Winston Cup victory. Post race, Dale was slightly emotional over the win, even stating it was likely his last; he also said that he put all he could into this race for that reason. Jeff Gordon said "It was so cool to be here for Dale's last win. I'll never forget shaking his hand along with everyone else in victory lane."