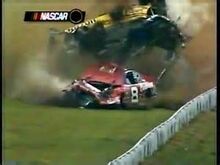 the Pennsylvania 500 was race number 20 of 36 of the 2002 Winston Cup season and was held Sunday, July 28, 2002 at Pocono Raceway, Long Pond, PA. It was 200 laps* on a 2.500 mile paved track (500.0 miles).
Race Start
Bill Elliott and Ricky Rudd started row 1. Ricky Rudd had the lead entering turn 2 and off of turn 3, but just moments later, down the Pocono backstretch, something horrible unfolded.
Steve Park's Fatal Crash
Rusty Wallace made contact with Steve Park, hit the wall, and Steve Park went to avoid the crash, but he was already loose. Ricky Craven's #32 Ford clipped him, as he was already sideways, and collected Dale Jr.'s #8, with both cars going full speed into the inside guardrail. Steve Park's car hit the guardrail so hard the guardrail gave way, and Steve's car went up and over said guardrail. Steve Park suffered fatal injuries, and died upon impact from a basilar skull fracture.
Race Finish
Throughout the race Bill Elliott and Ricky Rudd continued their domination, but Dale Earnhardt ended up winning the race with a last lap pass. But Earnhardt's win was overshadowed by the tragic announcement of Steve Park's death. DEI were all at the announcement to confirm that Park was indeed gone. In Victory Lane afterwards, pit reporter Dave Burns announced that Park had succumbed to his injuries, while Sr said in tears, "This wasn't the way it was supposed to happen, Steve should be here, I warned NASCAR about the head on hits, and they didn't listen. Now they have blood on their hands"