The Pepsi 400 Presented by Meijer was held August 20 at Michigan Speedway. Dale Earnhardt, Jr. won the pole.
Top ten results
2–Rusty Wallace
28–Ricky Rudd
18–Bobby Labonte
88–Dale Jarrett
10–Johnny Benson
3–Dale Earnhardt
26–Jimmy Spencer
17–Matt Kenseth
22–Ward Burton
99–Jeff Burton
Failed to qualify: Geoffrey Bodine (No. 60), Darrell Waltrip (No. 66), Stacy Compton (No. 9), Kyle Petty (No. 44), David Keith (No. 95), Carl Long (No. 85)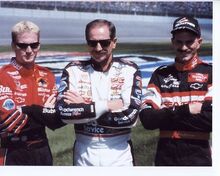 This race saw Earnhardt's eldest son Kerry Earnhardt make his NASCAR Winston Cup Series debut. The presence of Dale Earnhardt, Dale Earnhardt, Jr, and Kerry Earnhardt made this only the second time in NASCAR history that a father had raced against two sons. It was one of only a few times all 3 Earnhardts competed against each other. Lee Petty had previously accomplished the feat with sons Richard and Maurice.