The 1998 Daytona 500 began with emphasis on NASCAR's 50th Anniversary Celebration. The pre-race show on CBS featured some of the greatest Daytona 500 finishes in recent memory. It also detailed the famous Daytona Beach Road Course and it featured Russ Truelove, Buck Baker, Tim Flock, Red Farmer and Junior Johnson on the Daytona Beach with one of Tim Flock's old "Full Jeweled" #300 Chryslers. Kansas Governor Bill Graves gave the command for drivers to start their engines and Pro Football Hall of Famer Dan Marino waved the green flag to start the race.
In the mid stage of the event, green flag pit stops were still in progress with Jeff Gordon leading, and were on pace of breaking the average speed of 198. Ward Burton cut down a tire, leaving debris on the track. This would bring out the first caution. Late in the race with a possibility of a second round of green flag stops, John Andretti and Robert Pressley made contact in turn 2 and both spun out, which brought out the second caution. During pit spots, Dale Earnhardt came out first, Michael Waltrip had a penalty after running over a hose while pitting, thus held back at the rear of the pack.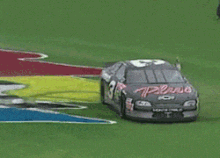 Dale Earnhardt led Bobby Labonte and Jeremy Mayfield heading into turn 2. Lake Speed and John Andretti, who already was spun out at the same corner, got together and both cars spun, setting up a scenario where Earnhardt, Labonte, and Mayfield were all in contention for the win. With 1½ laps, the three came up on the lapped car of Rick Mast. Earnhardt easily passed Mast on the outside. Labonte lost Earnhardt's draft while Mayfield sped to the inside of Mast. Earnhardt led Labonte and Mayfield, who were side by side. Earnhardt took the white and yellow flags in first while Labonte edged Mayfield for second by a fender. The race would end under the caution flag.